Amy Winehouse, Lioness: Hidden Treasures - OUT NOW
Amy Winehouse, Lioness: Hidden Treasures is now available to listen to in its entirety for both Open and Premium Spotify users. Click here to listen now. If you haven't got Spotify, follow the same link to sign up for an account. Spotify is available in the following territories: UK, US, France, Spain, Norway, Finland, Sweden, Holland, Denmark, Austria, Belgium and Switzerland.

In other news, you can now see Amy's spellbinding performance of 'Love Is A Losing Game' on VEVO and from Monday 12th December, 'Tears Dry On Their Own', recorded in 2006 for the long-running Irish music show, Other Voices.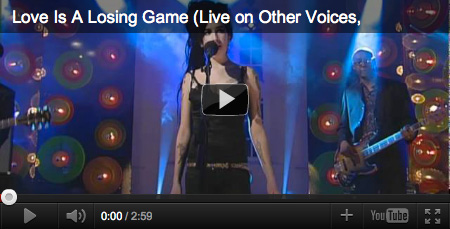 Tracklisting:

1. Our Day Will Come

2. Between The Cheats

3. Tears Dry (Original Version)

4. Will You Still Love Me Tomorrow? (2011)

5. Like Smoke Feat. Nas

6. Valerie ('68 Version)

7. Girl From Ipanema

8. Half Time

9. Wake Up Alone (Original Recording)

10. Best Friends, Right?

11. Body And Soul With Tony Bennett

12. A Song For You






Thank you to everybody around the world who's supported the Amy Winehouse, Lioness: Hidden Treasures album. Don't forget, a minimum of £1 from every sale in the UK/ Eire goes to the Amy Winehouse Foundation, set up in Amy's memory to support charitable activities that can provide help, support or care for young people.
AmyWinehouse.com